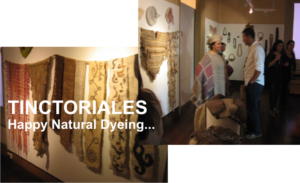 Hello,
Please find enclosed my CV, it is not classic … as a specialist in natural dyeing, I am offered the possibility of creating an Artisanal and Ecological Village in Concon, on a ground of 200 hectares, near Viña del Mar , Chile (country where I live for more than 20 years – dual nationality)
In order to make only the minimum of ecological errors …, I wish to do a world tour that allows me to deepen my technical knowledge in the natural dyes, weaving, natural fibers, agro-ecological production and traditions , On the basis of voluntary work and the exchange of technical knowledge.
You can visit www.academia.edu presentations I made at the Kuching Symposium, Taiwan and recently in Madagascar. After this Symposium, I spent 15 days at a silk producer 180 km south of Antananarivo, in Talata, near Antsirabe. Back in France, I prepared a new Powerpoint presentation on the technical exchanges we had. I could prepare similar ones for future trips.
This trip could last up to more than two years. I am currently in France (with travel possibilities – if financing) until 20 September 2017, the date of return for Chile.
I should then start with Moquegua (Peru), where the Director of the Museum of Archeology had proposed to me to organize formations in the Cordillera for artisans who are losing their traditions.
Then, I think of going back to Argentina (via Bolivia), to Santa Fe where I have already hosted workshops (about my presentation at the IFPECO in Madagascar, May 2017) and perhaps in Cordoba, where I Have a contact.
Afterwards, the adventure begins with Paraguay, Brazil (agroecology), Guyanne Francaise, all by land transport, to reach El Salvador, where I have contact with a woman who produces indigo.
Then I will go to Mexico where I have a contact with a consultant specializing in mealybug (if possible in December 2017). It would be interesting to continue with the United States and Canada (opportunity to participate in exhibitions and improve my English which is more literary than practical) where unfortunately I have no contacts yet. Then continue in the spring through Iceland, the Nordic countries (the weaving techniques of the Vikings interest me a lot, I have no contacts yet), Poland, go down to France where my parents live.
I would like to continue through the Maghreb, then descend to Senegal, Cameroon and South Africa, go back through Madagascar (where I have just participated in a Symposium of natural dyes and where I have many contacts, (A lot of new information and techniques to share), go back to the North via Kenya and Egypt, Jordan (I'm also interested in archeology).
Then I would like to follow the Silk Road. Turkey, Armenia, Kazakhstan, Uzbekistan, Kyrgyzstan, Nepal, Boutan, India (4 months minimum, some contacts), Bangladesh, Myanmar, Laos, Thailand, Kampuchea, Malaysia China, Philippines, New Zealand, Australia, Indonesia, Ceylon, Tanzania, Madagascar (contacts), Paris, Santiago
For countries where I do not yet have contacts, I think to work with woofing, helpstay, couchsurfing … As long as I can use land or sea transportation that is more economical, I will do it. But I still have to finance a certain number of air tickets and incompressible visa fees …
Could you help me prepare this crowdfunding campaign?

Francoise Gabrielle Raffi
Facebook: Francoise Gabrielle Raffi – fanpage: La Francesa Bigotuda
Whatsapp: +56 9 764 449 78